The Event
24 HOUR ROW FOR
A CURE
The 24-hour Row for A Cure, is becoming an unstoppable and incredibly rewarding fundraising challenge that is continuing to grow and inspire many individuals as well as raise vital funds and spread awareness about Brain Cancer. The event is not for the faint hearted, and requires extreme dedication, passion, commitment and endurance.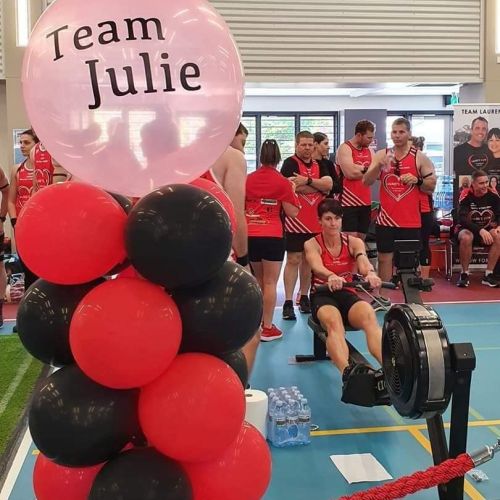 This event began in 2019 in the tight knit farming community of Ayr. Laurence Pavone, founder of Laurie's Love, was at the height of his brain cancer battle, and he devastatingly passed away merely days before the event. This seemed to spark a fire under every person on and off the rowers, and they pushed beyond their own comprehension and possibilities, watching the Love and Support grow immensely. "Buckets of Love" were filling with money and dontations were handed to Laurie's wife and children in the form of a travel voucher to use when they needed it.

The Row saw teams of 12 row on gym rowers relaying continuously for 24 hours. Teams split into smaller groups to allow members to rest throughout the night while the rower continues to move. Together, over the course of the 24hrs, rowers clocked up an incredible 350,000m – roughly the distance from Townsville to Cairns. Locally, members of the public joined in and supported these amazing people coming and going throughout the evening – food and drinks were locally donated and sold throughout the 24 hours, live entertainment kept the venue buzzing with excitement and members of the public joined the roster to help out at the various stations around the venue.
The row in 2019, with only 3 teams involved, we raised $45,000!!! The following year, in 2020 in the wake of Laurie's 1 year Anniversary, it grew into a spectacular sight with many more joining the challenge. 11 teams locally, 1 team in Townsville and 1 team in Thursday Island made for a very emotional and exciting atmosphere. Due to covid, we also had 1 rower live streaming and rowing virtually all the way from Melbourne. The hall was filled with emotion. Happiness, sadness, fun, laughter, tears and sheer exhaustion. But also a tonne of Love. The love and support between team members was admirable and something that is still talked about today. People took on this challenge for many different reasons. There were many who knew Laurence and many who didn't. They may have been rowing for someone they love who was battling cancer or to support friends and family going through a rough time. They may have chosen to participate to simply challenge themselves and contribute to a wonderful cause. What ever the reason, every member came away from this event with extreme pride and eager to participate in 2022.
In 2022, we aim to take this challenge to the next level and invite enthusiasts from all over our nation to join us in this marvelous challenge. Last year teams raised a whopping $152,000 for Brain Cancer Research. Laurie's Love and our affiliation with 'The Cure Starts Now Collaborative', have been able to fund various grants and research projects with renowned medical research institutions. To date, Laurie's Love has raised over $400,000 and are so proud to say that our involvement has contributed to numerous medical breakthroughs and allowed researchers to continue their studies into this disease. Help us by joining in on the fight against Brain Cancer.

Laurie's Love gives us The Gift...
The gift of HOPE. The gift of INFINITE LOVE...